Are you a beginner who wants to get started with a fitness regime? Or are you a fitness enthusiast willing to get in shape with a whole-body workout? 
Try adding jump rope to your cardio routine!
A jump rope can be a great addition to your gym bag. 
It's handy, and you can take it anywhere you want. It can help you burn up to 1,000 calories per hour and offers plenty of other unique benefits. But given the variety of jump ropes available on the market, it's not always easy to make the right choice. This post looks at the pros and cons of several different types of jump ropes so you can make the perfect choice for your fitness regime. But before we get into the details, let's first understand how to choose a jump rope for yourself.  
How to Choose a Jump Rope? 
Jump ropes are often the ultimate choice for losing weight, toning muscles and accomplishing fitness objectives. However, you need to consider a few factors before you choose the right jump rope. Some of the key considerations include the following. 
Length of the Rope 
The length of your jump rope is one of the primary considerations when it comes to choosing a jump rope. Only a jump rope that's accurate in size will give you the fitness results you want to achieve. Moreover, a jump rope that's not the perfect size will only make your workout more challenging and increase the risk of injury. 
To get a suitable-sized rope for yourself, stand in the center of the jump rope and bring both the handles evenly up to your chest. Make sure you hold the rope tight. The handles of a jump rope with an ideal length should reach the middle of your chest (sternum). 
Your Fitness Goal 
Another important consideration is your fitness goals. Do you want to lose weight? Or are you focused on improving your stamina and flexibility?
Once you decide on your fitness goal, you can go for a thin, medium-sized, thicker or weighted jump rope. A thin jump rope facilitates a high-speed workout and is great for experienced fitness enthusiasts but if you are new to training and are struggling with balance, it is best to go for a medium-sized jump rope. 
On the other hand, a thicker rope is an excellent choice for individuals who prefer traditional strength training over HIIT workouts. Similarly, a weighted jump rope is great for improving stamina and offers a great arm's workout.  
Materials 
While it's important to give enough consideration to the length of your jump rope and your fitness goal, you must be careful about the jump rope material as well. You can find basic, plastic jump ropes that are great for speed training. However, they are not very durable. 
If you are looking for more durable materials, then leather jump ropes and cloth jump ropes also make excellent choices. Leather jump ropes are known for their quietness and wooden handles. Moreover, since the jump rope is slightly thicker than the plastic alternative, there is little tangling. However, leather jump ropes are more costly.
On the other hand, if you want to save this extra money, then a cloth jump rope is an equally functional option. They are light in weight, so may not be great for an arm's workout. Moreover, they don't do fairly well on rough surfaces. 
Handles of the Jump Rope 
As you focus on the material of the rope, let's not forget about the handles. You need excellent grip as you are skipping rope and that's why you need to know the handles of your jump rope. Plastic handles are usually fine but you can also find wooden alternatives. Moreover, for kids' jump rope, you can also try to invest in jump ropes that come with foam handles. 
The adjustability of the Jump Rope 
It may be last on the list but it is a key factor that you need to consider especially if you are a beginner. When you just get started with this workout regime, it takes time to find a jump rope with the most precise length and that's when you need adjustability. By investing in an adjustable jump rope, you save yourself the hassle of repeatedly purchasing jump ropes in order to find the right length for yourself. 
Types of Jump Ropes
Now that you know how to choose the right jump rope for yourself, it's time to take a closer look at several different types of jump ropes that you can find on the market. 
Basic Jump Rope 
A basic jump rope is a simple and cost-effective tool that provides an effective workout. It's a great fitness tool for beginners as basic jump ropes are thicker than speed ropes but at the same time, they are lighter than weighted jump ropes. Most of the basic jump ropes are made up of plastic with rubber or foam handles for better grip. 
Speed Jump Ropes 
As the name suggests, speed ropes are light in weight and are made to be quick. They are usually thinner and are best for indoor use as they cannot withstand the wear and tear caused on rough, outdoor surfaces, like pavement. If you are looking for a HIIT workout, then investing in a speed jump rope is a smart choice. 
Weighted Jump Ropes 
Weighted jump ropes are great for giving you an arm's workout. The extra weight that comes with the jump rope requires you to put in more energy and forces your shoulders to work harder. As a result, you can enjoy a stronger upper body with the regular use of a weighted jump rope. 
Weighted jump ropes typically weigh from one to six pounds and are ideal for experienced jumpers. However, if you are a beginner, you can also use them as they are slower than speed ropes. 
Beaded Jump Ropes 
As the name suggests, beaded jump ropes are segmented jump ropes with beads that have an inner nylon cord. While the bead does make the jump rope heavier, it still weighs less than weighted jump ropes. 
Ropeless Jump Ropes 
Ropeless jump ropes are "ropeless," but then you may be thinking that what's the point of investing in a ropeless jump rope? Well, they are super effective, and they are perfect for improving mind-hand and eye coordination. 
There are several other types of jump ropes that you can find on the market, but the ones highlighted above are those that are commonly available for purchase. 
Jump Rope Accessories 
Now you already know a lot about jump ropes, but did you know that you might also need a few accessories to make the most of your jumping experience. The two most critical accessories include a jump rope mat and jump rope shoes.
Jump Rope Mat 

The surface on which you jump matters, and a jump rope mat is one of the top accessories that you need. A jump rope mat gives you the right surface to jump so your jump rope remains in top shape without causing extra strain on your body. 
Jump Rope Shoes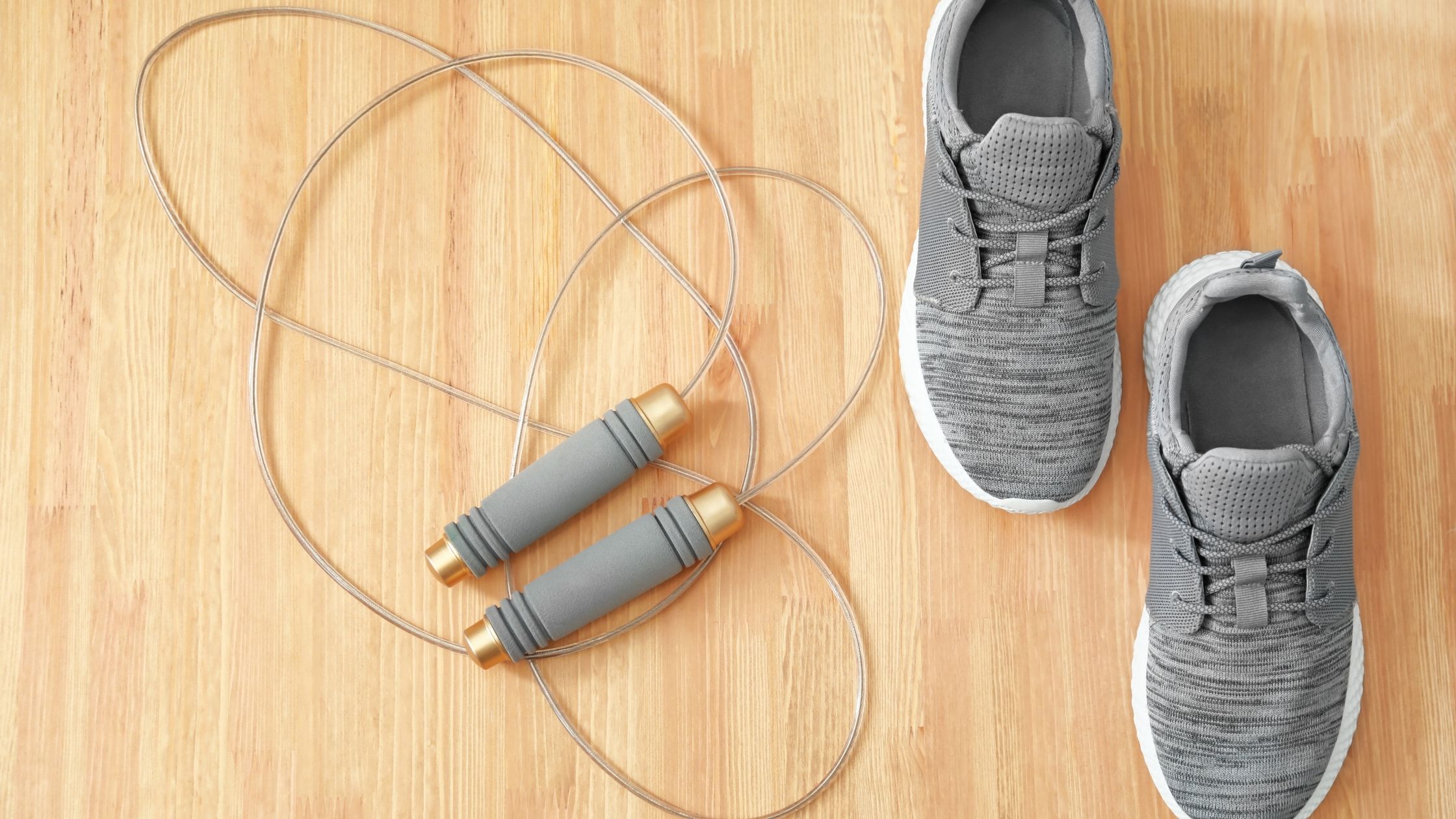 For exceptional grip on the right jump rope surface, you will also need jump rope shoes that keep you comfortable, reduce the risk of injuries and sprains and give you the jumping exercise you deserve.  
Jump Rope Maintenance 
Unlike other gym equipment such as treadmills or exercise bikes, your jump rope may not need maintenance. However, there are a few tips that can help you extend the life of your jump rope. 
Depending upon the type of jump rope, jump on the most appropriate surface. 

After use, make sure you coil your jump rope properly. Moreover, never coil around the handles if you are storing your jump rope. 

Do not hang your jump rope on a hook. 

Store at room temperature. 
Best Jump Rope Workout 
Some of the best jump rope HIIT workouts that you can try to push your cardio fitness to the next level include the following. 
The Basic Jump Rope HIIT Workout 
A combination of standard jumps and single-foot hops, this basic jump rope HIIT workout will help you achieve your desired fitness. 
The 2 Circuit Jump Rope HIIT Workout 
You can try this workout with a single or two jump ropes of varying weights. Use the heavier jump rope in the first circuit to get into the rhythm, followed by a circuit with lighter weight rope, and reach your strength and fitness goals in less than 15 minutes every day.   
Final Words on Types of Jump Ropes
It's very easy to get confused given the overwhelming choice of various types of jump ropes, but not when you have the relevant information about the different types of jump ropes available on the market. With the information in this guide and beyond, I am confident that you will pick up the right jump rope for your fitness.