An exercise bike is a cornerstone in every gym. It's also one of the most common kinds of fitness equipment that you're sure to find in any fitness enthusiast's home. Exercise bikes are an accessible, hassle-free alternative to the gym for anyone who wishes to get rid of some extra pounds. They're widely available in the market today, but did you know exercise bikes have been around for several decades?
The first-ever exercise bike, you may call it the ancestor of the exercise bikes that you see today, was introduced in 1796 by Francis Lowndes. It was called the Gymnasticon and was initially introduced to aid sick people and people with disabilities in their physical therapy.
With time, newer versions of the originally bulky and huge Gymnasticon were created. While the design evolved with time, the purpose remained constant – to help individuals stay fit and healthy. And today, exercise bikes are a staple of any fitness regimen. 
If you're someone who can't afford to compromise on their health and fitness but can't make time out to go to a gym, investing in an exercise bike seems like a good option.
If you've been considering buying an exercise bike, now seems the right time to educate yourself about the various types of exercise bikes available in the market today so that you're able to make a more informed decision.
How to Choose an Exercise Bike
There are different types of exercise bikes available today, each serving a different purpose. If you're planning to buy an exercise bike, you should know what factors you should consider when buying an exercise bike so that you don't end up with equipment that isn't suitable for your needs. 
Types
Exercise bikes are of various types, namely:
Upright exercise bikes

Recumbent exercise bikes

Stationary exercise bikes

Foldable exercise bikes
Think about why you're buying an exercise bike before putting your money on any exercise bike. If you're looking for an intense workout session, an upright bike would be suitable for you. If you're looking for an exercise bike that offers comfort, the recumbent exercise bike seems like a better option. 
If you're tight on budget, you can buy a stationary exercise bike stand and use your outdoor bicycle for the purpose. If you want a portable exercise bike, a folding one would be best for you. The right exercise bike for you would be the one that suits your requirements and needs best.
Warranties
Another important consideration when choosing an exercise bike is the warranty. Always check if the manufacturer is offering a warranty, and if yes, for how long? Warranty on exercise bikes is divided into warranty for parts, frame, labor, and electronics. The warranty on the frame of your exercise bike should be the longest (lifetime is best). The warranty for parts, labor, and electronics should be at least 1 to 5 years.
Display
Choose an exercise bike that features a display screen. A display screen displays factors like your workout time, pedaling speed, heart rate, and the number of calories you burn. The display could be either basic analog or high-definition digital with touch screen functionality. 
The more hi-def the display is, the more information it will provide. Some bikes may not have any display at all. If the budget isn't a concern for you, opt for an exercise bike that has a reasonable display screen.
Programming
If you take your fitness very seriously, you may want to invest in an exercise bike that has programs that enable you to adjust settings based on your fitness level and allow you to carry out controlled workouts that are suitable for your age, gender, and weight. 
Exercise bikes with connected programming are the most advanced and best ones.  These exercise bikes have Wi-Fi and a digital display screen that can stream prerecorded or live classes and help you keep a record of your workout and track your progress. Connected models fall on the pricier side, so if budget isn't an issue, these types of exercise bikes are definitely worth it!
Resistance Levels
You should choose an exercise bike with adjustable resistance levels so you can adjust your workout as per your need. Most exercise bikes that are available today have electronic resistance control that allows you to make adjustments.
Safety
Exercise bikes comprise various moving parts, which poses a risk of injury if you're not careful enough. You should choose an exercise bike that has a safety lock. If you've got children at home, you need to consider safety features even more closely to make sure they don't end up in any unpleasant accidents with your exercise bike.
Types of Exercise Bikes
There are different types of exercise bikes, each type having contrastingly different features that set them apart. The various types of exercise bikes and details on what makes them different have been discussed below.
Upright Exercise Bikes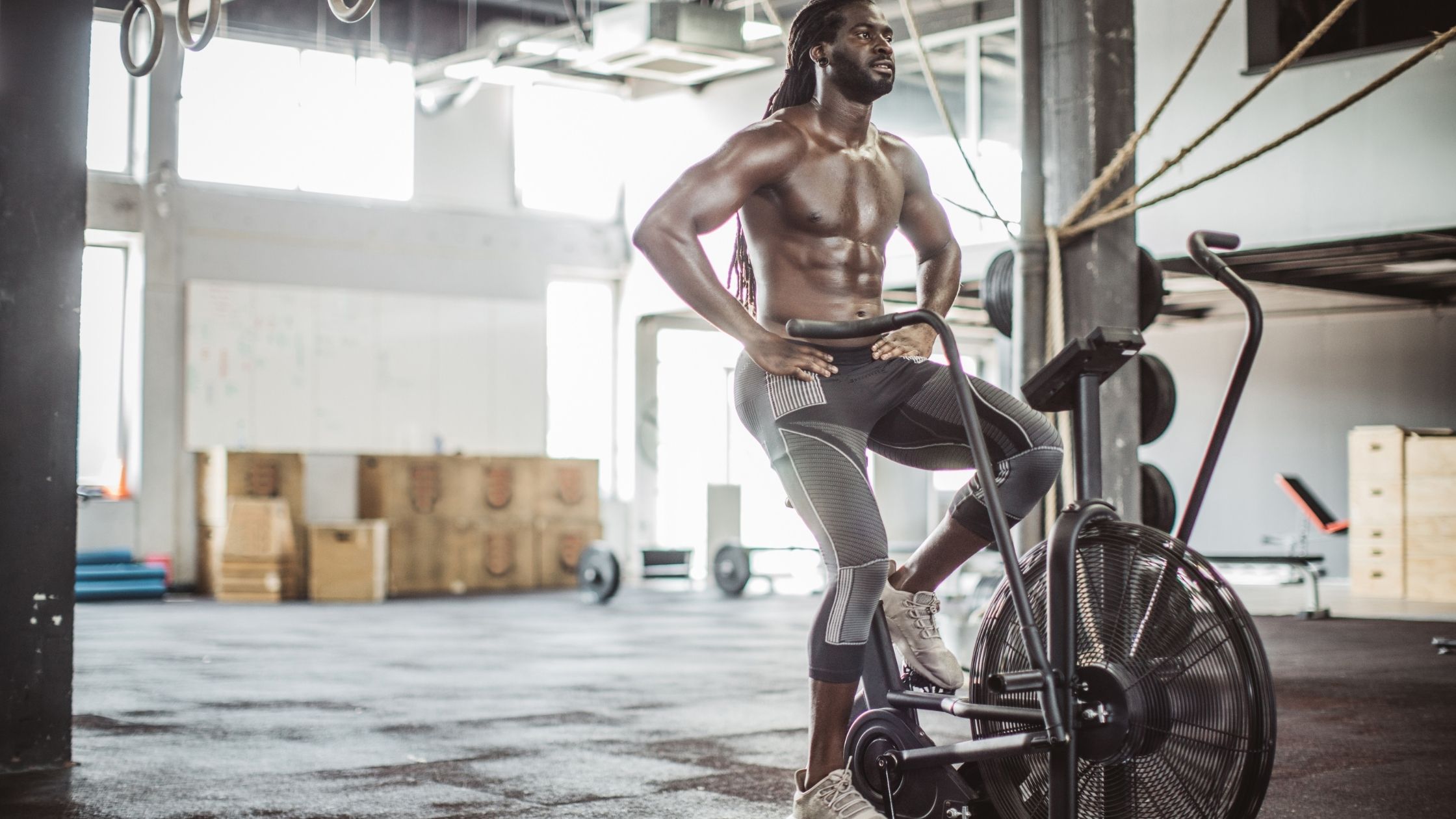 Upright exercise bikes are the most common type of exercise bike that you'll see. An upright exercise bike resembles a classic bicycle. The pedals are positioned such that they are under the user's feet. There's a seat to support the weight of the user's body. Upright bikes are used for cardio and lower body workouts. However, some may even engage the upper body muscles and the core. 
The user must position themselves such that their body is in an upright position and the arms are engaged with the moving handlebars. There is no back support, so a sore rear and back are common when you're using an upright exercise bike. 
Upright exercise bikes have the smallest footprint due to their upright design and are, therefore, easier to transport. You can enjoy a leisurely workout or an intense one, depending on how hard you pedal. Since these types of exercise bikes are so versatile, they are equally suitable for beginners and professionals.
Recumbent Exercise Bikes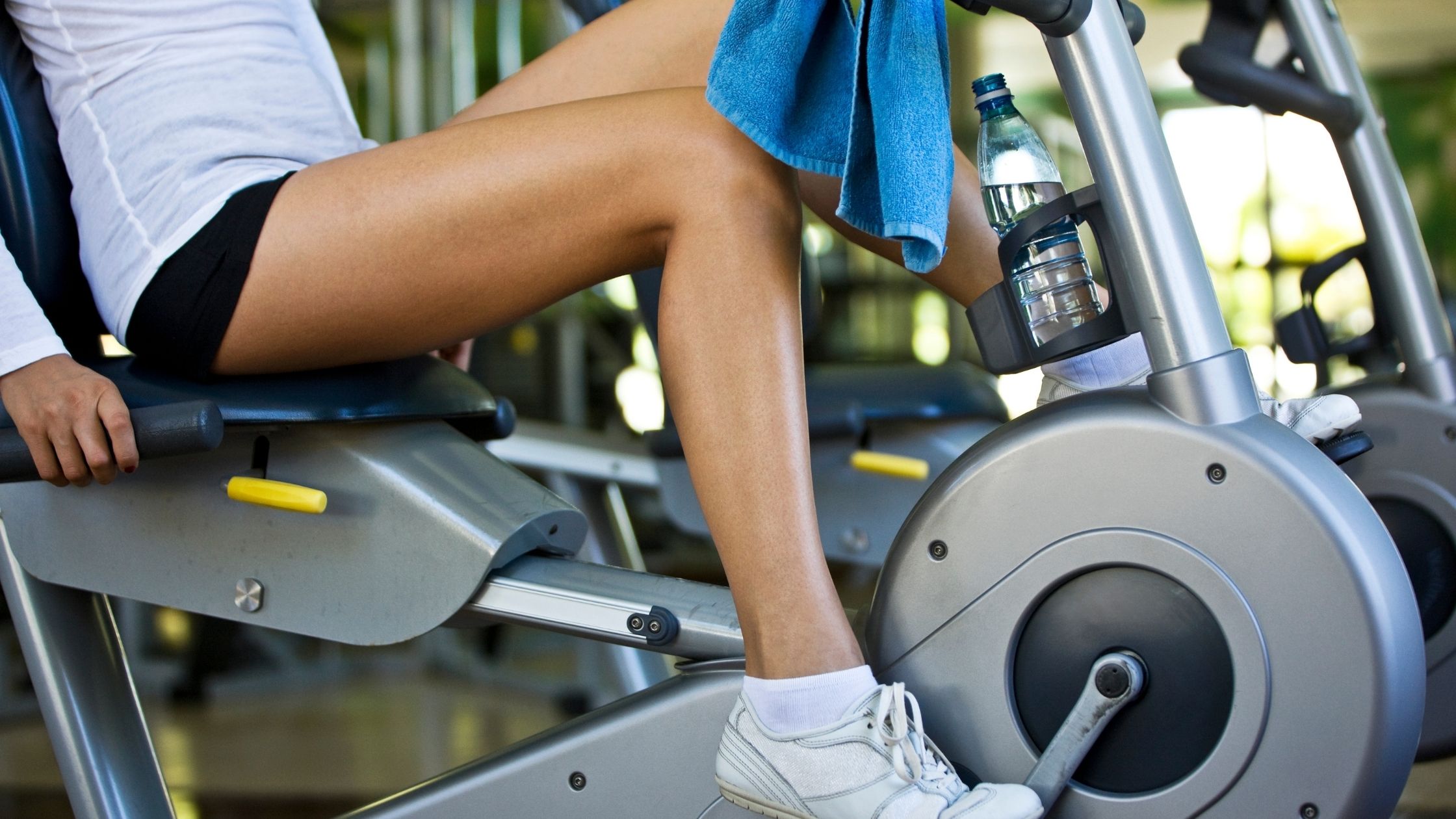 Unlike upright exercise bikes, recumbent models offer comfort with their reclined seat that provides complete back support. The user can lean back in their exercise bike seat and pedal comfortably. The pedals are positioned out in front instead of right below the user's feet. Even the handlebars are positioned on the sides to offer the users maximum support. 
Recumbent exercise bikes reduce stress on the joints and make workout sessions more enjoyable and less painful for the user. Recumbent exercise bikes are ideal for individuals who're looking for equipment to help them with low-intensity workouts. It's one of the best exercise bikes for a home for people who're either recovering from an injury or have back and knee problems. If you asked us what the best exercise bike is for seniors, we'd say that recumbent exercise bikes are the best without a doubt!
Stationary Exercise Bike Stands
If you're tight on budget, the stationary exercise bike stands seem like the best option for you. It's a bike stand on which you mount your regular bicycle. The stand holds the bicycle stationary while you pedal just like you would on an upright exercise bike. 
Folding Exercise Bikes
The foldable exercise bikes are the best exercise bikes for home use where storage space is an issue. The fold-up exercise bike doesn't have a fixed seat which makes it easier to fold and store away. You can find foldable models in both upright and recumbent varieties and even in stationary models. These exercise bikes are best for those who like to exercise out in parks or wish to travel with their fitness equipment.  
Indoor Exercise Bikes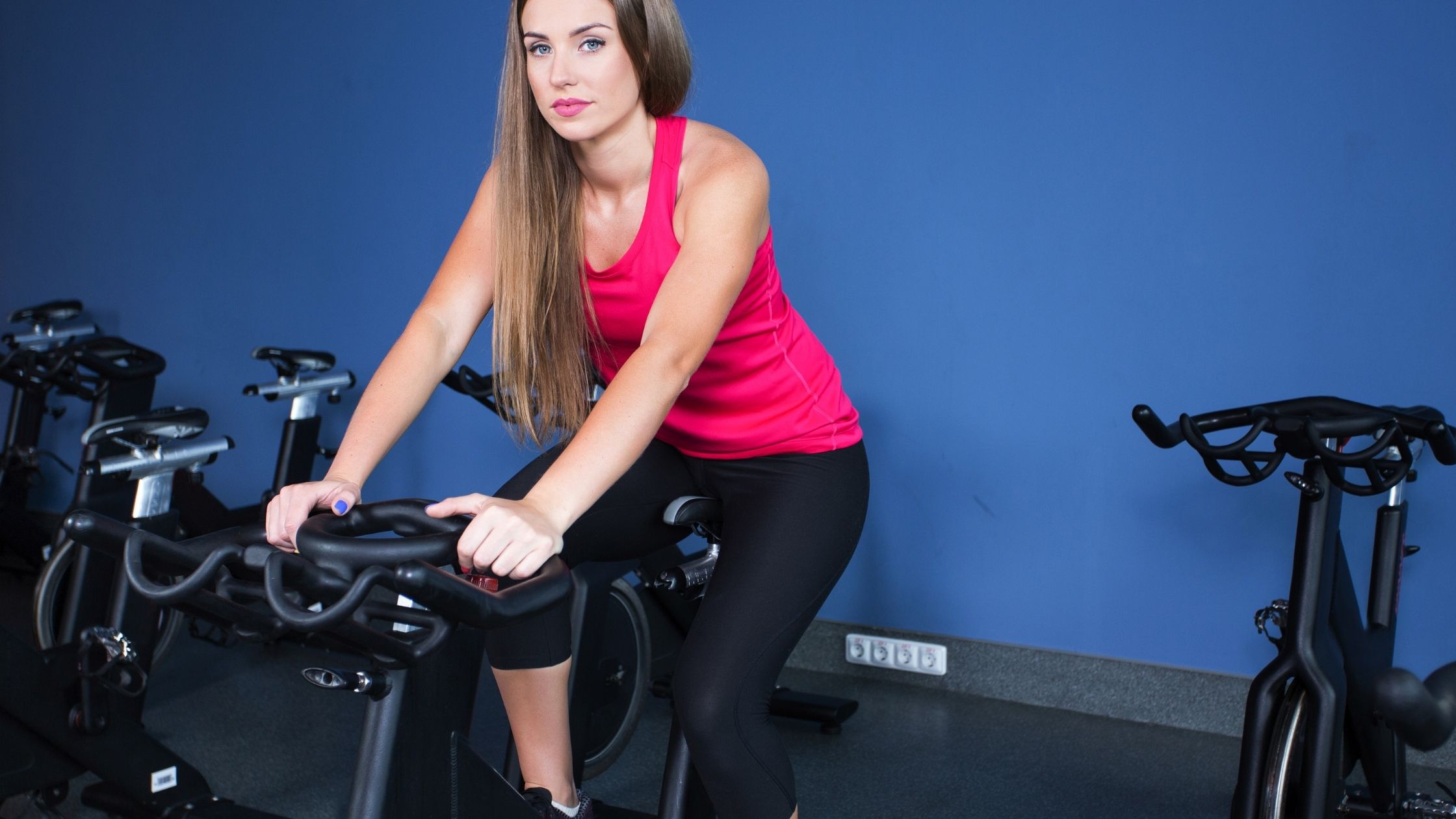 Indoor exercise bikes may look very similar to upright bikes, but they are quite different. Their handlebars aren't as close to the seat as in the upright exercise bike. They're farther away, and therefore, the rider has to bend forward. Indoor exercise bikes make way for a more strenuous workout. The user can stand and cycle, which will engage more of their muscles with greater intensity. 
Fan/Air Bikes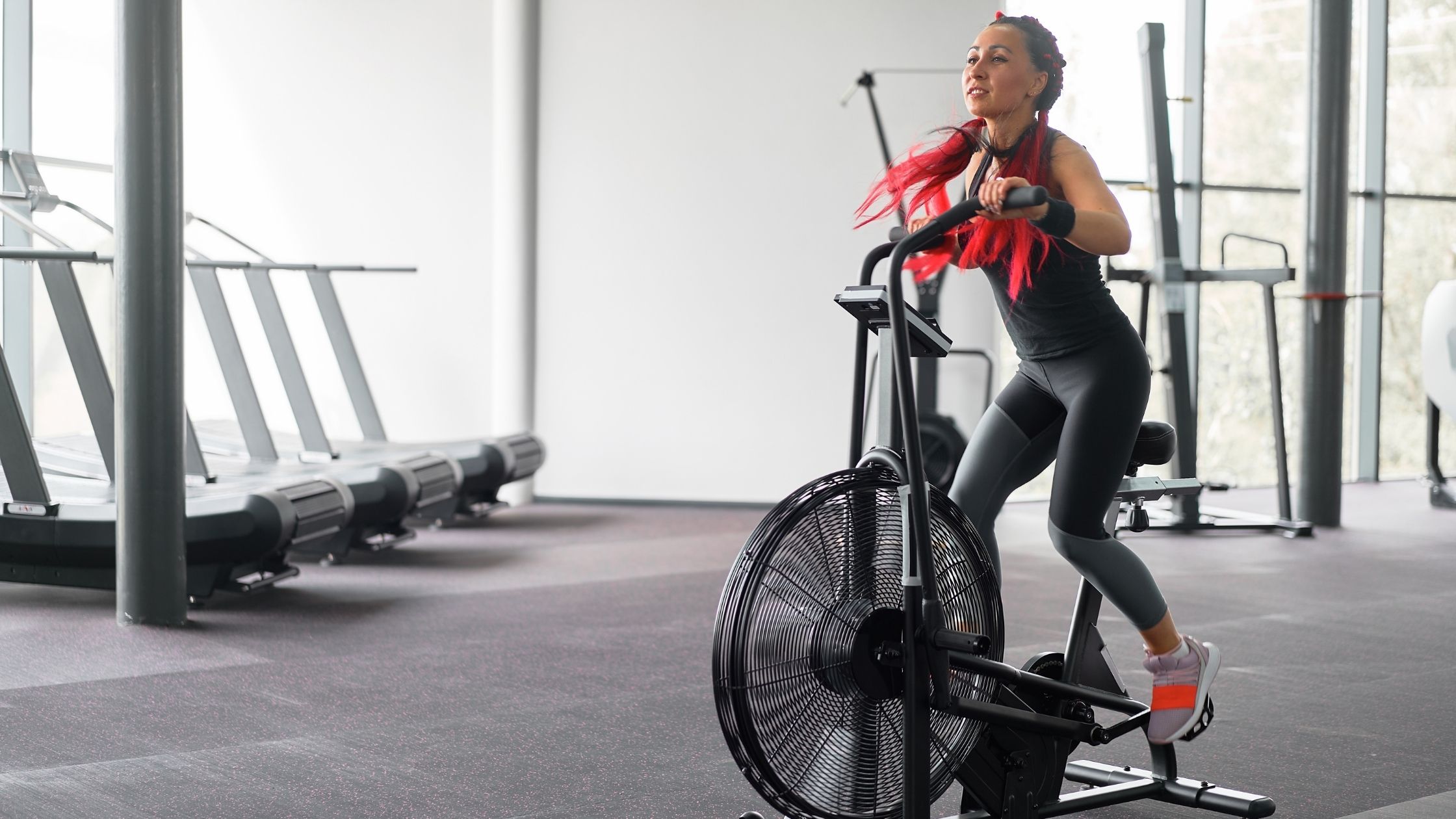 Fan or air bikes are sometimes classified under upright bikes, and other times, they're put in the same category as indoor exercise bikes. However, when you look at their features and characteristics, you'll see why we've listed these bikes separately. They feature a unique design that works a bit differently than regular indoor bikes. The harder you pedal, the more resistance you will face. They have moveable arms, a feature that isn't present in other types of exercise bikes. Users can perform independent workouts for the upper and lower body simultaneously.
Small Exercise Bikes
Small exercise bikes are also a thing. A mini exercise bike is just the pedal section of an upright exercise bike with no seat, no handlebars, and no wheels. You might think that they're inefficient, but they make for great fitness equipment, especially if you're planning to lose weight by combining calorie deficit and workout instead of relying on the workout alone. You may even call this exercise bike an under-table exercise bike because it can literally fit under your table!
Most Expensive Exercise Bike
Expresso Fitness S3U Novo
The Expresso Fitness S3U Novo is known to be the most expensive exercise bike. It's an upright exercise bike that features a high-definition, 19-inch digital screen. The screen comes with Expresso Live, an interactive fitness management system. 
The user can enjoy over 30 virtual tours, compete with simulated riders, and even real-life opponents over the internet through Expresso Live. The data is saved for record-keeping purposes. The program also allows users to compete with themselves and evaluate their progress. You can access your progress and other saved data on your iPhone. 
Why is it the Best?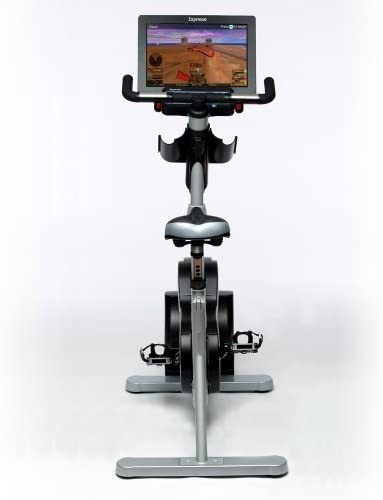 The Expresso Live program is what makes the Expresso Fitness S3U Novo the best. It provides the user with a proper simulation of a real riding experience. A person using this kind of exercise bike will feel the same excitement competing with opponents as they would in real life. And that's what'll keep them going. 
Features
High-performance processor

Premium video card

Expansive memory to store data

Realistic riding experience

Adjustable seat with 20 height options

Steering handlebars

30 gear resistance

19-inch display screen

Interactive Expresso Live program

Wi-Fi connectivity

Quiet operation

Fluid motion
Price $5,800
Best Exercise Bike Under $1000
Assault Airbike
The Assault Airbike is the best exercise bike that you will find for under $1000. It offers you all the total body workout facilities at an extremely affordable price. It features a computer screen that displays all your fitness data so that you know just where you are and stay motivated.
The Assault Airbike has 2 handlebars that are designed to help you in the upper and lower body workout. It offers greater resistance and a smooth and quiet riding experience that will make your riding experience one that you'll enjoy thoroughly.
Why is it the Best?
The Assault Airbike is the best exercise bike under 1000 because it offers everything you need at a pretty attractive price point. Whether you're a beginner or on an advanced level, it'll suit you perfectly well, allowing you to do upper and lower body workouts, all the while tracking your progress right in front of you!
Features
Advanced computer display

Adjustable seat

20 sealed ball bearings for a smoother feel

Unlimited resistance for lower and upper body

Industrial powder coating for enhanced durability

Heavy-duty steel frame

Provides data for calories, heart rate, time, distance, RMP, and interval training 
Price $999
Best Exercise Bike Under $500
Schwinn 130
The Schwinn 130 is an extremely affordable upright exercise bike that is a great option for individuals who're looking for quality and pocket-friendly fitness equipment. The Schwinn 130 is equipped with Bluetooth and is compatible with various apps like Explore the World and Zwift. 
It has 16 levels of magnetic resistance that offers a smooth and quiet experience to individuals of all fitness levels. It can be operated manually, or you can opt to operate any of the 12 challenge or interval workouts. 
The LCD screen shows all you need to know right in front of you. The console features intuitive controls that make the Schwinn 130 one of the most user-friendly exercise bikes. It offers quality, connectivity, good exercise, and affordability, all in one place. 
Why is it the Best?
The Schwinn 130 is the best exercise bike under $500 because it offers you the best features at an extremely affordable price-quality, functionality, and connectivity. What else could you possibly ask for at this price?
Features
LCD display

Fitness and goal tracking

16 levels of resistance

Quiet and smooth operation

Bluetooth connectivity

Pre-installed workout programs

Contoured, padded seat
Price $349
Exercise Bike Accessories
You can add a number of accessories to make your riding experience a lot more wholesome and enjoyable. Let's have a look at some of the accessories of exercise bikes!
Seat Cover
While most high-end exercise bikes offer users the utmost comfort, a lot of the cheaper ones don't. To make your riding experience comfortable when your exercise bike fails to provide you that, a padded/ foam seat cover is what you need.
Mobile Clamp
Invest in a durable mobile clamp so that you can take your online fitness class while you're riding or simply enjoy your favorite series. 
Bottle Holder
Feeling thirsty and exhausted while you're exercising is totally normal. So what would you do when you're craving a gulp of cold water? Take a break and get yourself water? You don't have to break the temperament. Get yourself a bottle holder that you can attach to your exercise bike. Pop your water bottle into it, and you're good to go!
Battery-Powered Fan
A battery-powered fan is an excellent accessory that you should get for yourself. Clamp it on the handlebar and enjoy the feel of cycling in the open air. With a battery-powered fan attached to your exercise bike, you won't be all sweaty by the time you finish riding.
Exercise Bike Maintenance
The better you take care of your exercise bike, the longer it will last. Below are some maintenance tips to keep your exercise bike in top shape.
Wet a cloth with cleaning liquid and wipe the frame of your exercise bike. Never spray the cleaning liquids onto your bike directly. Doing so will cause the paint to chip off the surface.

Don't use abrasive materials when you wipe your exercise bike. This too will damage the paint.

Tighten the screws every few weeks because they often get loose due to constant movement.

Tighten the pedals and arms regularly.

Keep an eye on the lubrication and tension of the bike chain. If it's not well lubricated, it'll be harder to pedal.
Best Exercise Bike Workout
Riding an exercise bike is an excellent way to burn calories. In fact, if you ride an exercise bike regularly, it'll help you through your weight loss journey as well. Like every other piece of fitness equipment, there's so much that you can do with your exercise bike. Some of the best exercise bike workouts include:
All Levels Welcome – 53 minutes long

Cardio and Strength for Higher Levels – 45 minutes long

Intro to Hill and Speed Intervals  – 40 minutes long

Cycle Fartlek – 30 minutes long
Frequently Asked Questions
How much does an exercise bike cost?
An exercise bike can cost you anywhere from $200 to several thousand. The price varies with the features and quality. 
Can you lose weight by using an exercise bike?
Riding an exercise bike is an excellent way of burning fats, and therefore, you can most definitely lose weight by using it.
Can I ride a stationary exercise bike every day?
Yes. You can ride a stationary exercise bike every day, no matter what the weather is like.
Additional Tips on Types of Exercise Bikes
Exercise bikes are an important piece of fitness equipment which is why you'll find them in every commercial and home gym. There are numerous benefits of exercise bikes that make them worth the investment. With so many types of exercise bikes available, you can choose one that best fits your requirements, needs, and budget and start your journey to healthier and more fit you!